A new strategy is aiming to sustain precious stock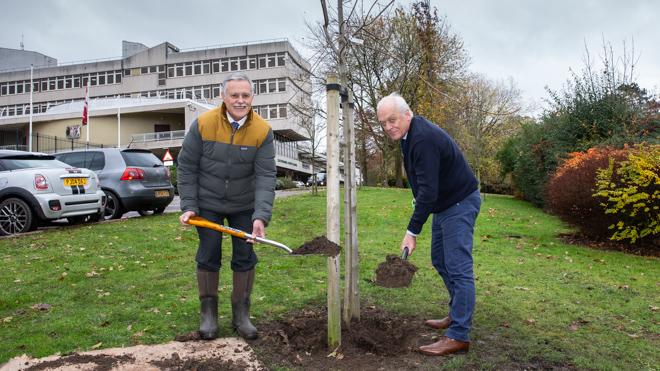 County council leader Nick Rushton has 'dug in' to support National Tree Week by planting a new tree just a few steps away from the entrance to County Hall headquarters at Glenfield.
He planted a maple tree renowned for its vivid autumn colours - before then joining Cabinet colleagues to discuss a tree management strategy.
The proposed strategy will see more trees planted and a greater emphasis on recognising their importance in promoting Leicestershire as an attractive place to live and work.
The plan also sets out to ensure the long-term conservation, sustainability and development of the precious tree stock for the people of the county and future generations.
We're proud to be a green council and we're committed to tackling climate change and laying down the roots to protect local wildlife habitats.

Trees are an essential resource which provide a wide range of environmental, economic and social benefits, and our focus is to continue to build upon our ever-growing green infrastructure and ensure a tree-filled future for Leicestershire

Nick Rushton, county council leader
The tree-planting ceremony heralded the start of a week-long of activities to mark one of the big events in the conservation calendar.
The County Council is responsible for managing approximately 82,000 individual tree specimens and over 400 hectares of woodland on its land holdings. It has a legal duty to manage and maintain all trees on council-owned land, in its parks and open spaces, and all trees on the public highway.
It receives approximately 10,000 enquiries each year regarding the tree management. Many of these relate to safety issues, such as branches overhanging the highway, but also includes requests for specialist advice and guidance from residents and landowners.
Top of page