People can make the most of late-night shopping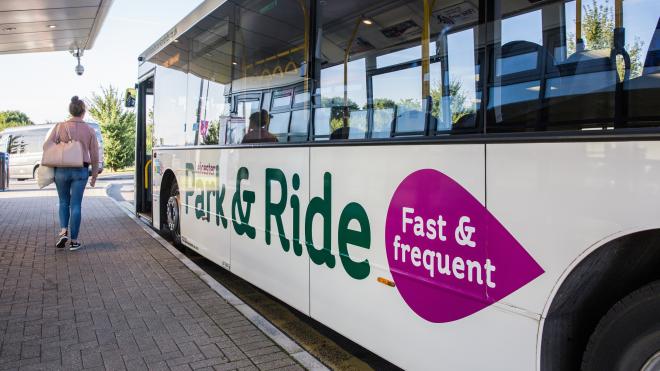 Leicester Park and Ride is running extra services throughout December – meaning shoppers and sightseers can catch a bus into the city centre every day in December except Christmas Day.
The extra services will be running on all five Sundays in December. On those Sundays (1, 8, 15, 22 and 29 December), buses will be running every 15 minutes between 10am and 5.30pm from the sites at Meynell's Gorse, Enderby and Birstall.
In addition, BID Leicester is funding extended Park and Ride services so that customers can make the most of late-night Christmas shopping, sightseeing and family days out. 
Extended services will be running until 9pm every Monday to Saturday from 9 December to 23 December, and the buses will run every half hour from 7pm until 9pm. BID Leicester is also funding an additional service on Boxing Day (Thursday, 26 December) from 10am to 5.30pm.
More details of the additional services, festive timetables and fares are available from the Leicester Park and Ride website at www.choosehowyoumove.co.uk/parkandride
Leicester Park and Ride services are the perfect way to travel into the city centre to make the most of the festive season. Whether it's for a shopping trip, a day out with the family, visiting the big wheel and ice rink in Jubilee Square or just relaxing with friends, the extra services throughout December will make it easier.

"I would encourage everyone planning trips into the city centre to leave their cars at one of our three sites and take the bus instead. It means people won't have to fight their way through the traffic or queue for parking – and it helps the environment by reducing the number of cars driving into the city centre.

Councillor Blake Pain, cabinet member for environment and transport
The core Park and Ride services and the extra Sunday services in December are jointly funded by us and Leicester City Council.
Councillor Adam Clarke, deputy city mayor for environment and transportation, said: "This year, we'll be running a full Park and Ride service on all five Sundays in December.
"Thanks to some generous sponsorship from BID Leicester, we're also able to run an extended service in the evenings, with the last buses leaving the city centre at 9pm on some of the most popular shopping nights in December – and there will be a special service on Boxing Day too, for anyone who wants to get out and about over the Christmas period.
"Using the Park and Ride service is a great way to help reduce the number of cars on our roads – but it's also a very cost-effective way of getting to the city centre."
There will be no Park and Ride service on Christmas Day or New Year's Day and normal service pattern resumes on Thursday, 2 January.
All three of the Park and Ride sites have free parking for service users, including disabled spaces and parent and child parking.
Top of page