Service will run until 7pm on 27 March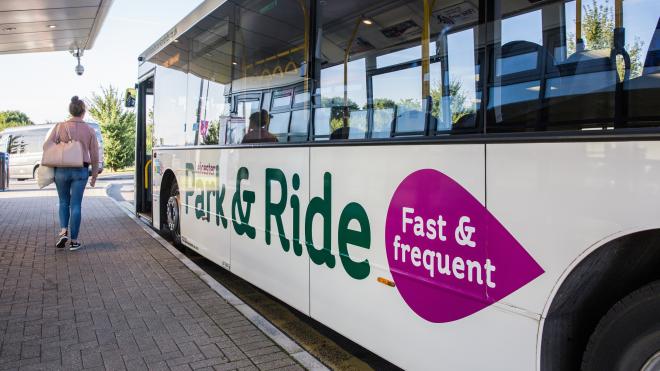 Leicester's Park and Ride sites are to close at the end of the week until further notice.
The Birstall, Enderby and Meynell's Gorse services, which are jointly run by Leicester City Council and Leicestershire County Council, will run until 7pm on Friday (27 March).
The number of people using the service to travel into the city has reduced since the prime minister's recent announcements to tackle the spread of coronavirus and the NCP and city council off-street parking becoming free across the city for all users.
Yesterday the number of cars using the service to travel to the city had reduced to less than 100 compared with an average day which sees more than 900 cars parking across the three sites.
This is a challenging situation, we're doing everything we can as a council and it remains vital that residents follow Government advice as it is clarified. We all need to play our part to stop the spread of coronavirus and save lives.

Nick Rushton, county council leader
As part of plans to support people in Leicestershire, we will be writing to voluntary and community groups outlining how they will be able to apply for support from a £1m hardship fund which was agreed by cabinet yesterday. The fund will enable local groups – who will be impacted by reduced café sales, room rental or donations – to keep on providing essential support to people who are isolating and reducing social contact. 
We are also working with districts, the LRF (Local Resilience Forum) and the Government to draw up plans for 'community hubs' following an announcement by Robert Jenrick, Secretary of State for Housing, Communities and Local Government.
County Hall is now closed to the public and we will be closing our children and family well-being centres until further notice, as well as locality offices used by adult social care staff.
Weddings which are booked at our registration offices across the county have also been cancelled and will be re-arranged at a later date. People will still be able to register deaths.
On Sunday, all country parks across the county were closed until further notice and people who can openly access sites are being encouraged to follow strict social distancing. 
All museums and libraries are also closed and for further information on closures, visit www.leicestershire.gov.uk/popular-now/coronavirus-council-updates
Top of page