Praise for contribution made by youngsters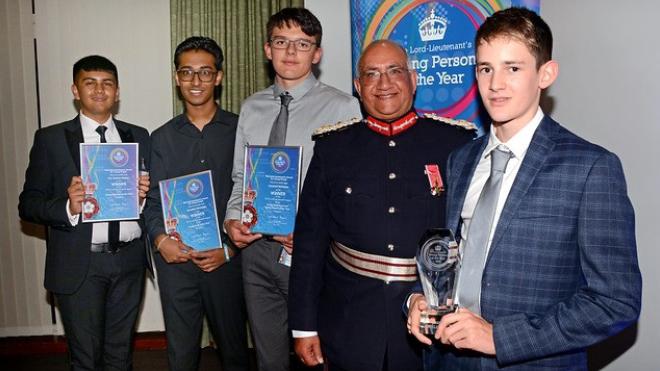 A group of remarkable young people joined the Lord-Lieutenant of Leicestershire at his annual awards ceremony.
The awards event, hosted by the Lord Lieutenant, Mike Kapur OBE at County Hall, Glenfield, celebrates the achievements of young people across Leicester and Leicestershire. 
The finalists, shortlisted in each of four categories, were recognised for showing remarkable levels of dedication, going above and beyond to help others and for outstanding personal achievements.
The four young people were all then considered for the overall award of the Lord-Lieutenant's Young Person of the Year award, and that went to Josh Welford.
Josh said "I didn't really expect to win, to be honest, there's so many other people that have done such great things that you don't exactly hope for it, but when you get given it, it's mad! 
"My message is don't give up, look for the bigger picture because in the end it'll come good, you've just got to wait for it." 
During my first year as Lord-Lieutenant, I have had the honour of meeting some extraordinary young people and seeing some truly humbling examples of volunteering, community engagement, and personal achievements, requiring dedication and commitment of the highest order. 

It is a privilege for me to be able to recognise and reward our young people. Their bravery, creativity, strength of spirit and selflessness should be an inspiration to us all.

Too often the achievements of young people go un-noticed by the wide"r community, and I hope that these awards will continue to showcase some of the remarkable work going on across Leicester and Leicestershire

Mike Kapur OBE, Lord Lieutenant of Leicestershire
Along with family, friends and nominators, the event was also attended by previous Lord-Lieutenant award winners. 
The awards are sponsored by a variety of organisations offering services to young people, including Leicestershire County and Leicester City Councils, together with universities and the business community.
They seek to identify and reward the very best examples of achievement by young people locally. 
Top of page