Background
Leicestershire County Council is undertaking highway maintenance works to three major bypasses at the A47 Dodwell's Road/Normandy Way Hinckley, A426 Blaby Bypass and A6 Market Harborough Bypass.
The projects will include carriageway resurfacing and extensive areas of strengthening where required, including installation of an asphalt reinforcement layer below the new surface in the worst sections. To maximise use of funding and reduce future disruption, the projects will also consist of a variety of additional maintenance works. Dependant on each project this could include footway/cycleway resurfacing, bridge re-waterproofing, minor drainage works and the replacement of road markings and studs.
As part of these projects, the county council are keen on promoting use of materials that reduce carbon emissions and incorporate waste materials within the asphalt mix. We've identified the use of lower energy materials to be incorporated on all of these projects where appropriate as part of the carriageway strengthening.
In addition at the A426 Blaby bypass, we will lay a rubber modified asphalt surface that incorporates recycled tyres into the product. The use of these materials is expected to reduce CO2 emissions by a total of 32 tonnes of carbon and incorporate the use of approx. 5,000 recycled tyres. The saving of 32 tonnes of carbon is equivalent to the emissions generated by travelling over 165,000 miles in a standard car.
A426 Leicester Road, Blaby Bypass
Excellent progress as shown in the photo below, on the A426 Blaby. The photo shows milling of the existing road surface at the A426 roundabout with Leicester Road towards Glen Parva, prior to re-laying new asphalt.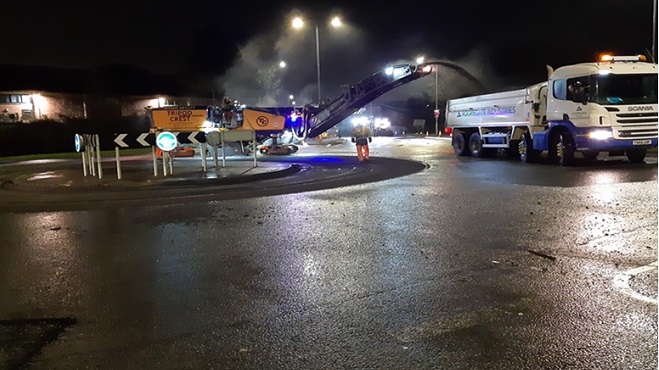 Find out more about the A426 Leicester Road, Blaby Bypass part of the maintenance project.